Room 620 | Fashion Photography
"To me, photography is an art of observation. It's about finding something interesting in an ordinary place…
I've found it has little to do with the things you see and everything to
do with the way you see them."
— Elliott Erwitt
"Photos are never going to be exactly the same especially when it comes from different people with different styles of taking pictures. Fashion photography is a new thing to me so interacting with people to take pictures of them was a bit awkward especially since I don't know them. To me pictures stand out by the lighting in them and the way they look as in the crispness in them and quality. My top 5 pictures I picked because they stood out to me and they represent the people I photographed as well as my style. I did apply edits to my pictures which were cropping them and changing the brightness and contrast."
- Natalia Perez
"I has been a great learning experience to be able to work with you. I learned valuable information about photo settings and important information to consider when taking pictures. I learned how to use the reflectors to get better lighting by placing my hand up to my face and seeing if the light hits my hand. What I enjoyed about this experience was that I learned a special technique to help me know if there's enough light in a room. Thank you for using your time to come to Joliet Central High School to advice my peers and me on fashion photography.
My interpretation of Elliott Erwitt's quote was that photography is more than taking pictures, its about portraying the model's character and their emotions. Expressing my ideas to the model was awkward at first but then we got more comfortable around each other. I knew I found my best images in the editing process because they stood out from the rest. These five images were my favorite because I like the way that some of the images were framed. I also liked the lighting of the images. I applied a few edits to my images because some of them needed cropping. I want the world to see my images as different from the rest. I want them to display an emotion when you see them."
- Vanessa Quinones
"I absolutely loved the quote that was mentioned, and agree with it 100%. When I was shooting, I realized that you can shoot at any place and any time and still create a story with the setting you have discovered. You can make anything what you want it to look like with a little creativity and imagination. During the photoshoot, I felt like I took control of the situation. When finding the best images, there were certain qualities about them that stuck out to me which made them my favorite. Certain moments really caught my eye and turned out great with the lighting conditions. I didn't edit my pictures too much, because I wanted them to be more natural so all I did was mess with the brightness and contrast a little bit."
- Alyssa Delgado-Rossolille
"While expressing my ideas to my model I felt weird at first but eventually I got used to it and things started to flow a lot smoother. I knew I found my best images when editing because I looked at the contrast and where the picture was taken, and which one just felt the best. These five images are my favorite because they stood out to me most and I felt as though I captured the model's personality a little and I showed my talent in them as well. I did edit my photos because I felt some were too dark or too light. I also felt some detail needed to be brought out. I want the world to know that I wear my life on my sleeve and that I am open to new ideas and critics and that it will only make me a better photographer."
-Samantha Loehr
"To begin, expressing my ideas to my model was difficult in some way because I could not think of poses they should do, I eventually got the hang of it but at first it was definitely awkward and quiet. I knew I found my best pictures by looking at the composition and perspective of the photos. Some were off guard but that can make the best picture. These 5 photos I chose are my favorite because they had a nice composition and some were off guard which makes them my favorite. Some of these images I applied edits to just by brightening them up or darkening spots that were a little too bright. A few things I want the word to know about how I see myself and my photos are that I could for sure get better pictures and have more ideas for my model to do. I am a improving photographer just thriving to get better."
- Rylee Marek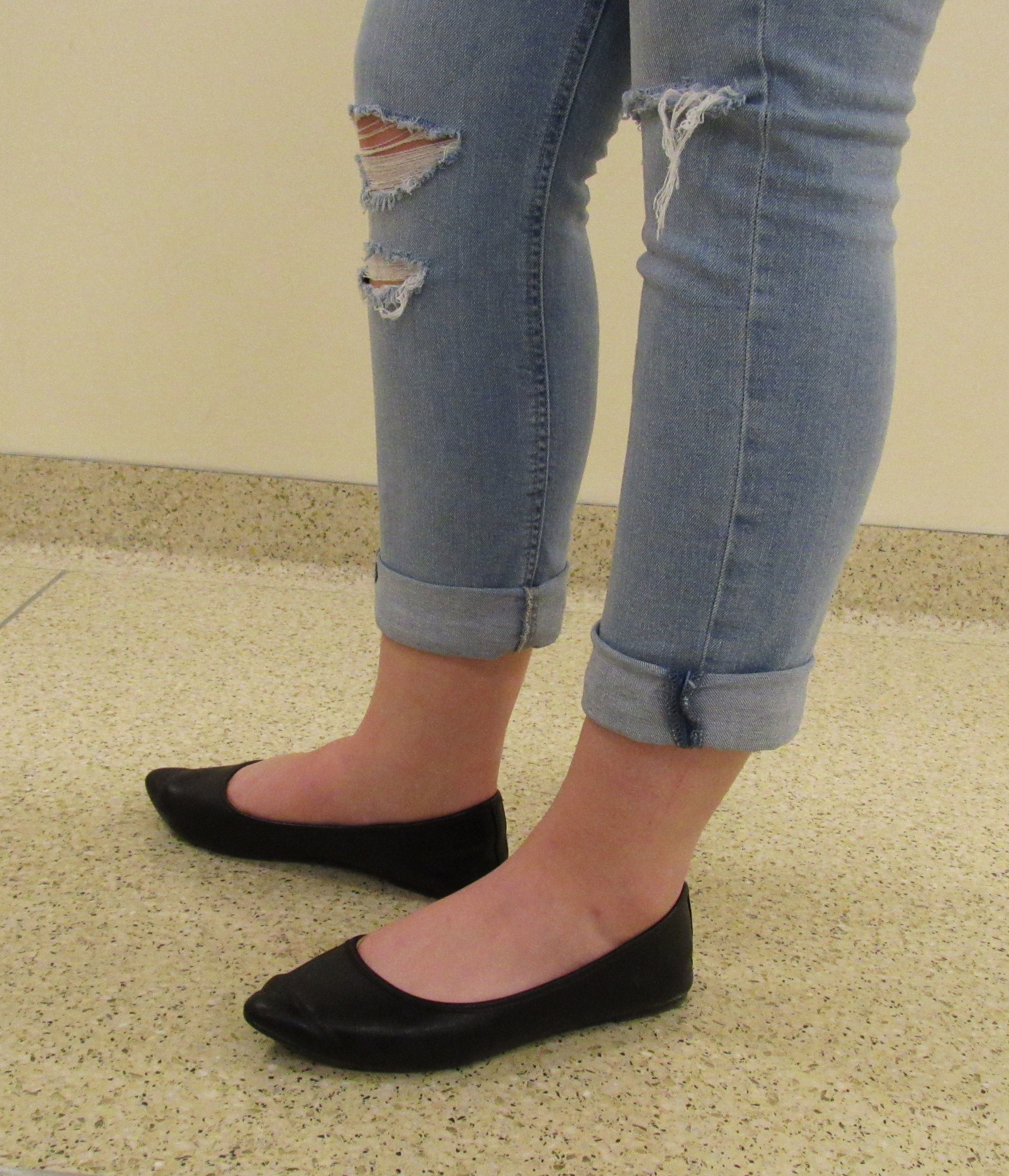 "During this whole new experience, I was able to express my ideas by letting the model follow the groups' orders while I roamed around them looking for the best shots. The way I knew I had good shots during the editing process would be when I noticed that the 5 I picked stood out from the rest that I had taken. Those 5 were also my favorite because it was when they were just being themselves. I did edit them because they were either too dark or too bright. Something I want people to know about me would be that I like capturing the little moments in life because you never know when they will change or disappear. Being able to capture their different moods. Some looking like their sad and others just being themselves."
- Monica Ramirez
"I had a very fun experience taking photos of the models and having you help guide me thru it all. I will like to thank you for coming to our class to help up with your personal techniques and much more. What I got from the quote that you sent was that there is a lot more than what you see. That you can see much more if you want and turn something plain into something great. When you asked me what was it like expressing my ideas to the models it was great having my point of view placed and seeing it in real life. Also how I know when I found my best image while I was editing was seeing which one stick out but not too much. The 5 pictures I picked were my favorite because I liked how I toke them, the lighting, and the colors. I applied edits to them by making the colors stick out more and just make the model look the best they possible can. What I want people to know about my photos is that I know how to capture a moment and take good pictures."
-Sebastian Lopez
"It felt weird expressing my ideas to the models. the best photos I got from the work shot was just catching the models off guard like catching them when they laugh or looking the other way stuff like that. just by how the models were placed and the lighting were all perfect but sometimes felt like it could've been better does that make sense? I applied edits to all my images just because I feel everything needs a change from its original self. the one thing I want the world to know about me is that when it comes to taking an important picture it will be a perfect picture."
-Isaiah Johnson
"My experience overall with the model and everything went well even though their were some problems with finding a good location. I would like to thank you for talking with us about techniques to use in the process and I did learn a lot. The quote you gave was quite inspiring, I think pictures do have some sort of meaning behind them though and it's important to know what's in it that's different. I look forward to seeing you again in the future and learn more things. When I was giving my model ideas on how to pose or act, I did find it weird but they got to show their own emotions. After it was done however, I got a lot of good pictures back especially in good lighting. I did apply some edit into these photos to make them stand out more or one thing from it stand out. I would like for the world to know that some pictures can have a good or bad meaning behind it."
- Lisette Robles
"I really liked the quote that you left us with my interpretation of the quote, "everybody sees things in a different way we all can capture the same picture but we all will see what we captured differently and it will have a different meaning to all of us". I think this quote means this because its true, everybody has a different way of seeing things not everybody is going to see eye to eye on everything especially with photography everybody has a different way they want to see it just like everybody has a different interpretation of this quote.
It was hard at first expressing ideas to the model because we didn't really know each other and I didn't want to seem bossy but as time went on it go easier because the model also had ideas of her own as well
These were my 5 favorite images because they stood out to me and the lighting in them was really good along with the angles plus the model really stood out to me
I want the world to know the images I take I want to be unique and stand out to all different people not just me. I want someone to look at my photos and get that wow factor."
- Matana Glunz
"My interpretation of the quote was that Photography isn't just taking mindless pictures. It is about taking pictures have a unique meaning to them, to you. The Photos I chose caught my eye and I hope are stunning to y0u.
Expressing my ideas was a bit weird to me, I'm not an outgoing person and I'm really awkward with new people. So I couldn't really express what I wanted them to do.
The way I found my best images during the editing process is because I have a big heart for portraits, and the intensity I put into these pictures made me happy. These five images are my favorite because they just look so pretty to me. They're serious but also stunning.
My editing process of was a bit on the heavier side. I added a lot of editing, I played with the colors and tried to give the photos more of a cold look to match her seriousness and give a mood to the photo.
I am nothing special, my photos are my opposite but in ways we are alike. I believe my photos speak beauty but also shows mystery."
-Annabel Leija
"I enjoyed learning how to use the reflector quite a bit it was interesting seeing how much reflecting light can help a normal photo turn into an extraordinary one. I saw the quote you put in your email and it really made me think about how when we look at a photo we tend to feel it as much as we see it. It was quite fun having you in class and I cant wait to hear your feedback on some of my photos!
when you asked what It was like expressing my thoughts onto the model it was like putting pen to paper since I have never really had speaking problems! I knew I found the 5 images I wanted when I the model looked like she was in a natural state and not trying to pose for a photo. the edits I made to these 5 photos were making them black and white so the viewer would not get distracted by the robust color scheme. when people look at my photos I just want them to know I'm just a guy with a camera who likes taking photos."
-Cruz Calderon
"The time you spent at Joliet Central with us was a good experience for me, I've learned a lot within two days. Throughout the two days, you were here I learned how to use the reflector for the lighting if it was to bright or too dim. Another thing I learned was to play "Simon says" with your model so they can be more comfortable and let lose a bit rather than be awkward and stiff. Hopefully you come more often and teach us more of your skills you use and tells us how you use your imagination to take a great image.
My interpretation of this Elliott Erwit quote was that Every person is not the same, everyone is different, everyone has different personalities that make them who they are today. Which makes everyone unique in this world because no one is the same. Expressing my ideas to my model was awkward at first because I didn't know them but then after a while I started to learn about the models. Through the editing part I found some great images from their rules of thirds, how the model is position, them expressing them self's and most of all the lighting. There were 5 top images that were favorite because they were just being their normal self's and because how the images were composition. For my five pictures I choose not to make any editing because I loved how the natural light made the picture come together. The only thing I would like to let the word know about me is that everything isn't easy, but I am a fighter and I'll keep trying until I get things right."
-Emily Arellano
"The experience I had a photographer that day was amazing, having the opportunity of learning new things. It was really different from what I was expecting it to be. Finding the locations and poses were not that easy as it seemed liked it. It was great, throughout the two days you were here I learned how to choose the right locations. It was really weird how I had to tell the models what exactly to do. Thank you, for showing us the right moments, when it stands out to capture.
My interpretation of this Elliott Erwitt quote was that every person is not the same as others, everyone has personality, they are not the same. It actually makes them unique because they are not the same as others, that is really important. Expressing my ideas to my model was awkward at the beginning because I didn't know them at all, after a while I started to learn new things about the models. The way my models were expressing them self made, normal self's and also because how the images were composition. For my five pictures I choose not to make any editing because I really liked how the natural light come together."
- Yasmin. Gutierrez
"It was quite an experience to step into your shoes and working with models for a photo session. As well as exciting and awkward trying to incorporate your ideas into someone else and seeing if they caught your image. It was awkward the first time trying to tell a complete stranger to do a "normal pose" but once the camera shot the image, the expressions of our models seemed unnatural. So my group suggested making them laugh or allowing our models to interact with one another to relax themselves. Fortunately it worked and both seemed to enjoy it and slowly began to ease up.
Thank you very much for taking the time to come to our class and sharing some of your techniques.I admire you for the fact that you kept pursuing your dream in photography, since many adults no longer strive for that. I enjoyed your enthusiasm and prideful way you speak about your career it's quite inspiring to see someone live out their dream or at least work for it.
On a different note, I interpreted your quote as that every individual sees completely different from another person, our vision and our way of seeing things are our own interpretations of what we want to see. For example, if you set up an individual in a certain way in the center of at least 5 people each of those 5 individuals will catch a different angle, a different expression, just an overall different atmosphere regardless if wherever the location is ordinary or extravagant. It relates to the assignment we did in class because we shot our photos in school; which is considered an ordinary place and our models were kind of our scapegoat to make it more extravagant.

I would like the world to know that I see myself as someone who is honest and a person who enjoys the natural being of things. And I would like for people to know that the pictures that I capture are somewhat a reflection of who I am and the atmosphere that I try to display for others to feel."
-Joselin Ramos
"The experience I had as a photographer that day was truly amazing, it was very different from what I expected it to be. Finding the different poses and locations was not easy because it was weird telling someone else to do. Thank you for sharing some of your techniques, and tips so our images could come out better. The time you spent with us taught me a lot when finding places with good lighting and angles.
My interpretation the quote you sent was, that there is always more to the image that what is being photographed.
These images were my favorites because I took risks with the lighting to make their makeup pop. I played around with the framing and poses and I was really happy with the outcom
What I want people to know about my pictures is that they have a more serious look to them, my models don't really smile. Also, that I was observant of my model and locations I was in to get the best images."
-Jovana Tirado
"Thanks for coming out and speaking about how to take fashion photographs, it was really nice meeting you and your cute dog. I was happy to learn something new from you being that you showed us how to focus the viewers eyes on to the models clothing by either touching the clothing or giving it movement. I really liked your personality and the way you tried getting involved with us while we took photographs and helped us out with the light reflectors.
Now to the quote you included in your message by Elliott Erwitt the way I interpreted the quote is in that there are many ways in which you can look at something. This relates to the experience I had with the model because even though they were wearing the same thing and were posed the same way other photographers around me who were taking their pictures focused on different things about them and captured what they were focused on.
Throughout the photoshoot we had at first it was a bit uncomfortable for me since I didn't know exactly how to explain myself to them and let them know what I was visualizing in my mind in the way I wanted them to pose or smile. And to me that was a new experience having to be vocal about what I wanted from the models. After I had taken the pictures I found the best images when it looked pleasing to me and I could visualize on how I could improve it. These were by best images because of how the models looked overall and how they looked genuinely happy and comfortable with themselves. Although I thought the images where great the way they came out I wanted to emphasize certain features and colors. The way I want myself and for my photos to be viewed is as creative."
- Maria Molina
"It was really nice having the opportunity to work with models to take fashion photos. A little complicated to get the models to understand what we wanted them to do or what we were picturing in our heads but once they got more comfortable it got easier for them to just naturally start moving around and posing. I enjoyed having you come in and show us some of your techniques and experience, like how the lighting and where you place the model in a setting is important.
The quote you shared with us is really interesting and could have so many meanings to it. My interpretation of it is everything has something interesting to it, you just have to look at things in different ways and observe them. In the editing process I knew I found the best images because those images stood out the most. Here are 5 of my favorite images from the fashion photo shoot. These images are my favorite because the models clothes looked the best in them. I chose to edit them to make the lighting of these images look a better or make the model stand out more. Something I want the world to know about how I see myself or my pictures is I want the world to feel something when they look at my pictures to relate to them. I want my pictures to have a meaning even if the "meaning" is different for everyone."
-Melissa Reyes
"I really enjoyed when you showed us how to work with models and when you brought your dog bean that was a fun experience. I saw the quote you put in your email and my interpretation of this quote is you have to look everywhere to get that perfect photo and not everyone has the same idea you have everyone is different with each photo they are unique. What it was like expressing my ideas to model, I thought it was very cool and it was very fun I hope I get to do it again. How I knew I found my best images is when I looked at the images I had a good feeling about them. The 5 images I picked were my favorite because of the way they turned out and how cool they look to me. I didn't choose to edit my images because I thought they didn't need to be edited I liked the way they are. Something I want the world to see how I view myself is I want them to know what kind person I am and how I view people when I take photos."
- Jorge Cardenas
" was not there for the fashion photography days but I was there for the first day you came to my school I ended up choosing my nephew as my model and expressing my ideas to my sister it was joyful being with my new born nephew. I knew when I found my best image because it stood out from the others. It's very fun and cute and his emotion really makes me smile every time I see that image. These 5 images are my favorite because, he shows different emotions in almost every picture. I did edit them in Photoshop because, some of the lighting was not the best, and I cropped them because I want my pictures to show off my model and not someone's random foot in the background. Something I want the world to see in my pictures is that I am far from ordinary and I plan to make my pictures extraordinary and into something beautiful and something you don't typically see. Your quote means to me that you can find a different perspective of someone that the person never really thought about themselves and bring out a side of them that is not so visible to someone from the outside looking in."
-Haley Mayfield